Glow

Parties!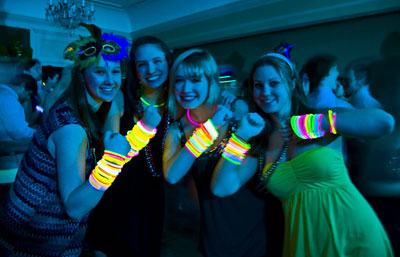 ...Not just for kids anymore!
Blacklights? We don't need no blacklights! Once you see our huge UV PANELS you'll see what I mean.
Your clothes will glow. Your eyes and teeth will glow! Your dandruff will... well, you get the picture. Plus, with reflective paint and markers that we can supply, you can transform your event into an all-out "neon paradise"! Non-toxic and safe for everyone at your party, adults and kids alike will marvel at the sight of NEON, lasers, FOG and GLOWING BUBBLES!
Best of all, you can just have the light show by itself, or add it to a DJ package.
Recommended events for this package:
Homecomings & Proms


Nightclubs


Hall Parties


Halloween


New Years Eve


Fundraisers


Birthdays


Graduations


Bar/Bat Mitzvahs


College Parties