Transfer Your

Old Records To CD!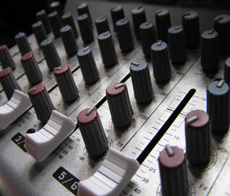 Media Transfer
How great would it be to listen to your record albums...in the car? What if you could give your old 45's a "make-over" and not only combine them together on CD, but also remove pops and skips?

If you have music that you need taken from one source and put on a phone, tablet or CD, let us take the time and hassle out of the job for you. Plus, your old priceless record collection stays safe and unused. We can even eliminate most pops and skips from vinyl transfers so you can listen to them on CD without hearing the excessive wear and tear of damaged record grooves.

Any of these formats can be transferred to audio CD, data disc or iPod:
33 or 45 rpm record
cassette tape
minidisc
VHS video tape
DVD
E-mail us for pricing on your media transfer project!
Imaging & Recording
We are also well known for our studio production work, and have the means to do recording and editing for both commercial and personal projects.

Choreographers & Dancers
Do you need music mixed for your choreography? Click here.
Mobile DJ's
Get your voiceovers, sweepers and drops produced right here! Mobile DJ's and high school/college radio DJ's can sound just like the big guys with a little help from E-Class Entertainment.
E-mail us for pricing and more info!